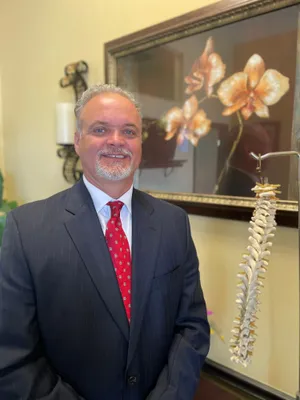 Dr. Clyde Sellers
Dr. Clyde Sellers is the new owner of Twin Oaks Chiropractic and Acupuncture in Springfield, MO. He is very excited to bring his expertise and passion to serve his community in the Springfield area. Dr. Sellers is a graduate of Logan College of Chiropractic and has been practicing for 23 years. In addition to serving the general public, he is committed to honoring and serving his fellow Veterans with all of
their chiropractic needs. Dr. Sellers served for 5 years in the United States Navy during Operation Desert Shield and Desert Storm. As a Veteran and former high school athlete, he understands how rigorous training and prior sustained injuries can manifest over time.
Types of Conditions
Dr. Sellers has always had a passion for helping other people as long as he could remember. He likes to focus on a whole-health approach to care He has extensive knowledge including but not limited to the treatment of Neuromuscular Skeletal conditions such as
Headaches
Sacroiliac
Disc conditions
Neck and low back pain
Radicular pain to the arms and legs
Wrist carpal tunnel syndrome
Fibromyalgia
Athletic sports injuries
Nutritional and weight loss counseling
Neuropathies
Personal injuries such as Auto Accidents and Workers Compensation
Types of Treatment
Dr. Sellers practices Diversified Adjusting Technique, Acupuncture, Activator Protocol, Flexion Distraction which is a form of Decompression for those more stubborn conditions of the lower back, Sacroiliac and Disc problems. His gentle adjusting techniques are for the entire family throughout their lifespan from expecting mothers, infants, children as well as Grandma and Grandpa.
Discovering Chiropractic
Chiropractic has helped him through some of his own injuries he had sustained while serving our great country and realized this is something he wanted to do for others. He has a passion to continue to serve our nations hero's. If you are a Veteran and are in need of help, please contact Dr. Sellers' office so he can help you get back to living the life you deserve. Follow us on Facebook at Twin Oaks Chiropractic & Acupuncture or contact us for more information.